Stats

130+
Finished Projects

2500+
Code Line

500+
Working Hours This Year

10+
Testimonials Received
250 +
Cups of coffee this year
Growth
Getting from nowhere to somewhere
Like any nice successful story, we have one too. It started back in 2010 as a two-guy operation. The sole purpose was the hunger for success and achieving the milestones we set as a company.
What we learned over the years, is that success comes when you're valuable and you bring something outstanding to the table.
Today we're trying our best to keep doing this, still enjoying the adventure and challenges. Therefore we're confident our future will shine as much as it did before, even brighter.
LEGEND
IT Services
Web Design
Web Hosting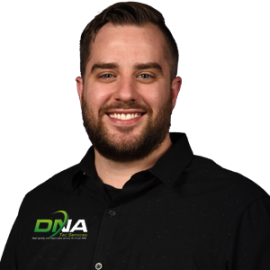 Adam Thiele
CEO
Adam's journey in the IT Industry began with a computer virus that resulted in a trip to a major retail chain's squad of geeks. The end result was a charge of $350 to remove a computer virus. 
Adam quickly realized that this can never happen again, so he started stydying how to fix computers to prevent this from happening again. This research and testing lead to a great desire in the IT field. 
When he was in high school, he was offered a chance to shadow the IT Director wile gaining more experience. This lead to him being the Network/IT Technician for the whole school in the district, which allowed the IT Director to tackle other projects in the school unit.
With this knowledge, he started working on computers as a independant contractor to gain even more experience until his college adventure started.
In the choices of collages to attend, he quicky chose ITT Tecnicial Institue of Orland Park IL, where the IT Director was informed of his past experience at his local high school.
While in his orentation class in college, he was approached by the IT Director of the campus asking him if he wanted a job in the IT department after his first 3 monts of attending college. Adam greatly accepted the role and was able to continue his training while working at a IT Technician on campus. He joined a team of 2 other IT professionals. 
As his experience grows everyday, Adam stays up to date with the latest technologies including beta testing version of Windows before public releases, HTML, and CSS.
Long term vision and goals
We love seeing our work praised and loved. It's surreal! We wish to continue like this always and forever.
Our goals are to make an impact in the IT and web design industry, by offering exceptional work in all of the jobs we complete.
Our Philosophy
Over the years we developed our tag line: "High Quality, Impeccable service, it's in our DNA". We follow this guideline in everything we work on.
We do not strive to be just another IT/Web Design shop, instead we want to provide a great experience and memorable experience each time you visit.
Reputation
I once had the chance to talk with a nice potential customer (at that time, now loyal buyer) and while i was providing some helpful answer to his question, he told me "We have had so many bad PC repair experiences". After hearing this, it shows that some repair shops have some bad apples, but honesty will go along way. I realized that the our clients don't forget the experience they had with our employees, and we have made a truly remarkable impression to build this great reputation. We promise we'll do our best to always maintain and improve our reputation.
Small or big business owners
We offer our services to both personal and business clients. We have worked with multiple business and home clients.  We encourage any type of business owners to consider us for any IT/Web Design needs they may have.
Our logo
We changed our logo in 2016 to embrace a new modern but bold statement of who we are as a company. This took hours of planning and design tweaks to release the logo that you see today. We hope you enjoy it.

I love it when
a plan comes
together!
Hannibal Smith in the A-team -